Hey there, fellow wanderlusters! Ready to dive into the crème de la crème of Marseille's hotels? Buckle up, 'cause we're about to dish out the inside scoop on snagging your dream stay, scoring killer deals, and having a blast exploring the awesome attractions right in your hotel's backyard. Let's dive in and uncover your ultimate Marseille escape.
Booking Your Sweet Digs: Where and How
When it comes to locking in your comfy spot, Marseille's got you covered with some seriously cool options: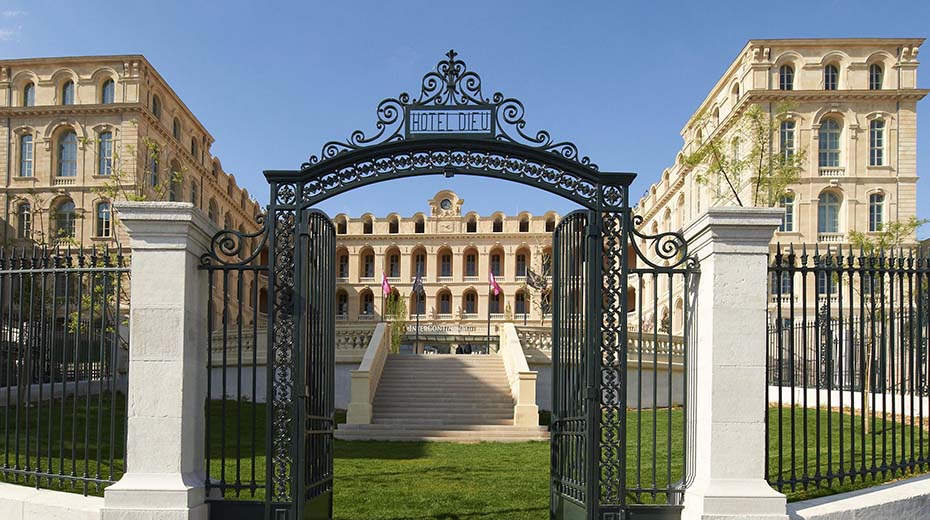 InterContinental Marseille – Hotel Dieu: Picture this: a plush hotel right by the charming Panier district. You're waking up to postcard-worthy views of the Vieux Port. It's almost too good to be true!
Radisson Blu Hotel, Marseille Vieux Port: This spot is practically neighbors with the Vieux Port. That means you're minutes away from soaking in the old-town vibes and chowing down on some seriously fresh seafood.
Hotel C2: Nestled near the lively Canabière district, Hotel C2 puts you in the perfect spot to dive into the city's heart. The Old Port and La Canebière are basically your playground.
Golden Tulip Marseille Euromed: If you're all about modern vibes and the cool energy of the Docks, this is your jam. It's in the Euromed-La Joliette area, where architecture and action meet.
Sofitel Marseille Vieux Port: Fancy a place with panoramic Vieux Port views? Plus, you're steps away from the adorable Le Panier district. Get ready for some serious street wandering.
Savvy Saver Moves: Snagging Deals Like a Pro
Don't sweat the budget! We've got some killer tips to help you get that awesome hotel without draining your wallet:
Flex Your Dates: Be a bit flexible with your travel dates. Sometimes, a tiny date shift can lead to big savings.
Loyalty Love: Sign up for loyalty programs and create accounts on booking sites. Often, these heroes get special discounts that mere mortals can only dream of.
Secret Stash: Some sites offer "secret deals" for loyal members or repeat bookers. It's like finding buried treasure in the form of a discount.
Last-Minute Dash: If you're up for some spontaneous fun, last-minute bookings can be a budget's best friend. Embrace the adventure!
Double Deal Magic: Keep an eye out for combo deals that bundle flights and hotels. It's like shopping smart while saving big bucks.
Unveil the Nearby Fun: Attractions at Your Doorstep
Now that you've locked down your pad, it's time to dive into the awesome attractions just a hop, skip, and jump away from your hotel. Some Marseille hotels are like treasure chests packed with nearby gems:
Vieux Port (Old Port): You've got a front-row seat to the action. The Vieux Port is right there, buzzing with life. Take a leisurely waterfront stroll, savor the aroma of seafood delights, or maybe hop on a boat for a sweet city-sea view. (Walking)
Notre-Dame de la Garde: This famous basilica sits atop a hill with killer views. Guess what? Some hotels are just a walk away, giving you a workout and a vista treat all in one. (Walking)
Le Panier: If your hotel's in the hood, Le Panier is a must. Get lost in its cute streets, check out some street art, and dive into quirky shops and cafes that'll tickle your fancy. (Walking)
Catalan Beach: Fancy a splash in the Med? Some hotels are crazy close to Catalan Beach. Get your tan on, enjoy the salty breeze, and pretend you're living the beach life. (Walking)
Calanques National Park: A quick ride from certain hotels, this park boasts jaw-dropping cliffs and crystal-clear waters. Hike, swim, and soak in the nature goodness – it's like a picture-perfect escape. (Car or Public Transportation)
Gear Up for Your Marseille Adventure!
There you have it, fellow explorers! Your guide to nabbing the finest Marseille hotels, snagging sweet deals, and diving into nearby attractions that are just begging for your visit. Whether you're all about that budget-friendly vibe or you're ready to splurge on a swanky escape, Marseille's got you covered. So, pack those bags, get ready to make some epic memories, and let the adventure begin! Bon voyage, amigos!